OTR Team forStraight Truck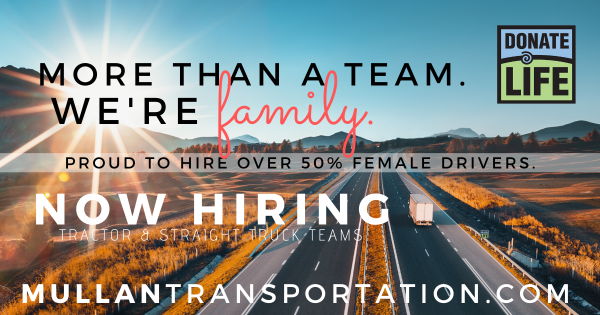 | | |
| --- | --- |
| Company: | Mullan Transportation, LLC. |
| Phone number: | 419-410-3057 |
| Driver type: | Company Driver |
| Equipment type: | Straight Truck |
| Job type: | Over the Road |
| Miles per week: | 2500-3500 per week |
| Compensation: | $.90 per mile linehaul to the team plus Fuel Surcharge |
| Bonus: | Sign On Bonus, |
| Home time: | We ask teams to stay out at least 5 weeks at a time |
Apply to Mullan Transportation, LLC.
Take the next step in your trucking career today! Complete our safe, secure, and fast application process and apply to Mullan Transportation, LLC.! Once you've completed your driver profile you can apply to additional truck driving jobs with a single click!
Apply Now!
Sign In to Apply
About This Job at Mullan Transportation, LLC.
Mullan Transportation has been a top rated fleet in the expediter industry for over 14 years. Come join our family and enjoy equipment, great load opportunities and great money. We are looking only for established team drivers and must have a CDL A or CDL B. Hazmat is not required but encouraged. We are a pet friendly fleet. Orientation is only 1 day and we not only have orientation with our carrier, RXO (Formerly XPO Logistics), but also with our trucks with a mechanic so you know how to use everything from the APU to the Direct TV in-motion satellite service. We pay out weekly. We pay our teams 60% of the linehaul pay, 80% of the Deadhead pay and 100% of the straight truck Fuel Surcharge (Our teams make more money weekly but paying for fuel, even with these increased fuel prices). Call and speak directly to the fleet owner for more details. Call 419-410-2800 or email us at
[email protected]
.
Mullan Transportation provides Expeditor and LTL freight services throughout the continental United States via Independent Contract drivers. These drivers are always hired as a team—this provides the fastest possible delivery from coast to coast, while still maintaining all DOT regulations. We have immediate openings in 2017 and 2019 trucks. Visit mullantransportation.com to see our fleet.
We believe in a higher standard, and we are committed to displaying integrity and respect for all persons, both drivers and business colleagues. Mullan Transportation is searching for experienced TEAM COUPLES that share a similar vision. With over 30 years of expertise in business management and technical disciplines, Mullan Transportation upholds higher standards in our relationships with both drivers and service providers. We work with a number of local and national businesses to build and maintain a top-notch fleet of expediting trucks.
Mullan Transportation offers a driver mentoring program, is a proud member of Women in Trucking, and offers the most competitive bonus program in the market.
Interested in joining our team? Please contact us.
Here's what some of our drivers have to say:
"We have been with Mullan Transportation for 4+ years, and we plan to be with MT for the rest of our careers as drivers. Mullan Transportation has our back: if we have a mechanical issue or any issue at all, it is immediately taken care of; our pay is always on time and to the dime! If you're an honest upstanding team, who just wants to sit back, relax, and enjoy traveling in the ultimate comfort, then here at Mullan Transportation is where you will want to be."
"We started expediting about 5 years ago. We have driven for other owners that told us how much they cared about us but only cared about themselves. Mullan Transportation has been absolutely wonderful to us. We are so thankful we drive for MT. They truly care about us and our business."
"We have been with MT for 3 years, and we are proud to be a part of such a good team. They have top notch equipment, they maintain it well, and pay is always on time and accurate. MT really cares about our well being, and they show it in many ways. Come join the Mullan Team, and you will be happy you did."
Click to Apply
Equipment Experience Accepted
Expediting Experience Required?
No, we do not require that applicants have expediting experience.
Bonuses
| | |
| --- | --- |
| Bonuses for extra pickups & dropoffs: | Yes |
| Hiring bonuses: | Yes |
| Annual bonuses: | Yes |
| Mileage bonuses: | Yes |
| Safety bonuses: | No |
| Per diem: | No |
Click to Apply
Hiring Area By State
A
B
C
D
E
F
G
H
I
J
K
L
M
N
O
P
Q
R
S
T
U
V
W
X
Y
Z
a
b
c
d
e
f
g
h
i
j
k
l
m
n
o
p
q
r
s
t
u
v
w
x
y
Arkansas
Florida
Georgia
Iowa
Illinois
Indiana
Kansas
Kentucky
Michigan
Minnesota
Missouri
Mississippi
Ohio
Oklahoma
Pennsylvania
South Carolina
Tennessee
Texas
Virginia
Wisconsin
Click to Apply
Driver Requirements
| | |
| --- | --- |
| Min. driver age: | 28 |
| Min. driving experience: | Less than 1 year |
DMV Record
| | |
| --- | --- |
| Hire a driver who has had their license suspended or revoked: | No |
| Hire a driver with a DWI or DUI: | No |
General Program Offerings
| | |
| --- | --- |
| Paid orientation: | Yes |
| Spouse rider program: | No |
| Child rider program: | No |
| Pets: | Yes |
Pay Information for Company Drivers
| | |
| --- | --- |
| Pay for layovers: | Yes |
| Pay for breakdowns: | No |
| Pay for loading and unloading: | Yes |
| Pay for tarp: | No |
Click to Apply