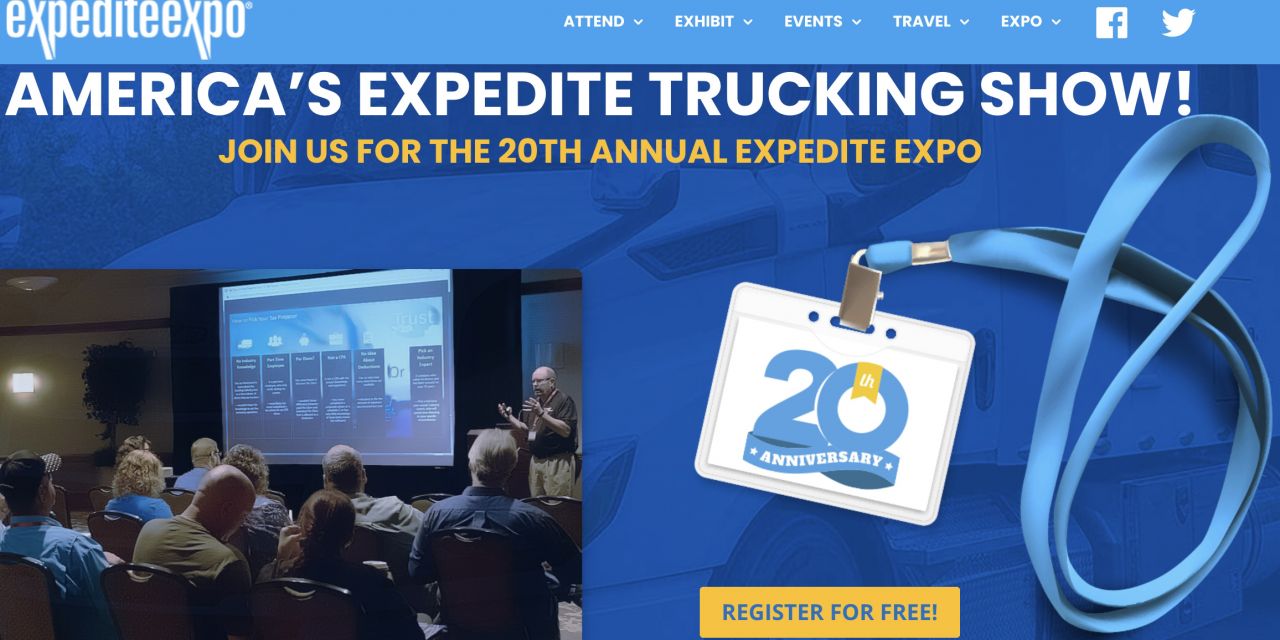 Expedite Expo 2021 - July 16th - 17th
Knowledge is power and to get the best start in expediting the more knowledge you have the better your chances of succeeding. There are no guarantees in Expediting of succeeding so it is up to each person to position themselves in the best possible light.
The Expedite Expo is how we got our start many years ago and we believe that was the start to our successful career in Expediting.? We started by researching Expediters Online and reading the forums over and over again.? We flew into Detroit which is where the Expedite Expo was at that time armed with a notebook, pens, and a lot of questions.?
The goal of attending the Expo is to meet as many people as possible, attend as many workshops as possible, talk to as many recruiters as possible, with the idea in mind that by the time we went to our hotel we would be exhausted and overwhelmed.? Take a? lot of notes, get names and phone numbers, and write down your thoughts or follow-up questions for the next day.? Do not commit to anything until you can get back home and think about everyone you met and their comments.?
Think about what is important to you:
How often do you need to be home
Do you have pets or smoke
Will you go to New York City or the northeast
Will you go to the west coast?
Can you go to Canada
Are you a team?
Questions to ask fleet owners if you are not planning to purchase a truck?

How will you be paid?
What is the split between owner and contractor?
Who pays for fuel?
Does the truck have a generator?
Will we be required to bring so much income to the truck before we can go home?
If the truck breaks down will the fleet owner pay for the hotel?
How will the fleet owner want you to choose loads?
Ask for more than one reference so you can talk to some of their drivers
This is just a short list as you will need to create your own list of questions.? Write down the answers and ask every fleet owner the same questions so you can compare answers.?
Attend BINGO and the Driver Appreciation Cookout to network with more people.? You should meet people that are looking to become drivers as well as experienced drivers who are usually more than willing to share their stories and thoughts.? Remember that everyone is an individual and what might not bother you really bothers someone else.? Learn something from everyone even the new person looking at getting into expediting as they might have a question they are asking people you had not thought of.?
We attended our first Expedite Expo in 2004 and we still talk with people we met at that expo.? We have attended every expo since 2004 and I am sorry to say we will not be at the expo in 2021 due to extenuating circumstances.
Register now for the Expedite Expo??
Allen County War Memorial Coliseum - Fort Wayne, In
Expedite Expo 2021
Bob & Linda Caffee
TeamCaffee
Saint Louis MO
Expediters since January 2005
?
Expediting isn't just trucking, it's a lifestyle;
Expediting isn't just a lifestyle, it's an adventure;
Expediting isn't just an adventure, it's a job;
Expediting isn't just a job, it's a business.