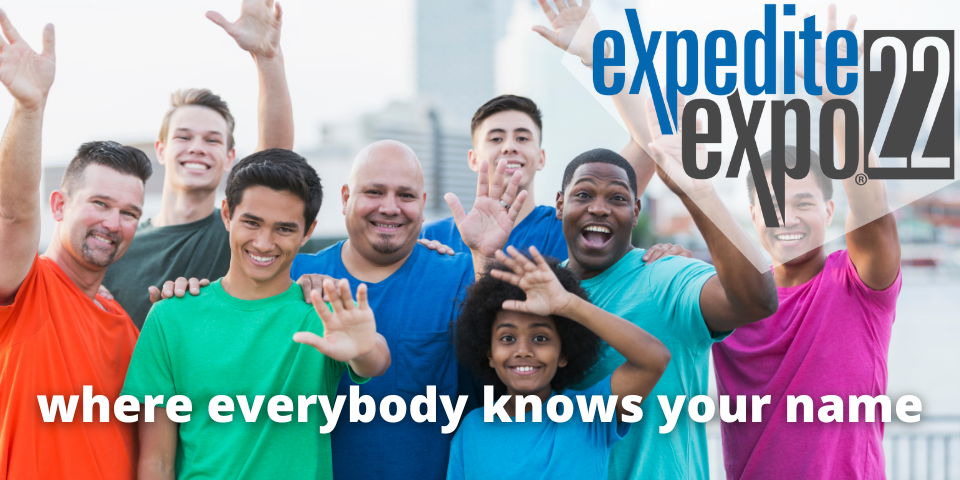 Expedite Expo: Where Everybody Knows Your Name
Take this as totally unsolicited advice from someone who has, on multiple occasions, enjoyed what the Expedite Expo brings to the table. Not only in the world of expedite, but for the entire transportation society as a whole. Trust me, you want and need to be a part of this annual summertime trucking shindig!
My first experience at the Expedite Expo trips all the way back to 2008, when my recruiting career was in its infancy. But the Expo had already been going strong for the previous seven years. It was my initial taste of live action recruiting in the wild. Setting up a booth with a truck indoors (insert mind-blown emoji) and having the chance to free-range discuss trucking topics with so many people from different walks of life and levels of the expedite industry.
Where Expediters Come to Meet
The Expedite Expo which, in its previous iterations and when I first would attend, was held in Wilmington, Ohio off I-71 between Columbus and Cincinnati. I remember it being very easily accessible for drivers coming in from off the road. But as an exhibitor who would be there for the duration of the show, there wasn?t a lot going on around the town outside of the Expo. So, the exhibit hall became our little homestead for the weekend. Almost like a little village of expedite professionals, all under one roof.
Different Places, Familiar Faces
As one who spent ample time talking with folks in attendance, one thing that always struck me was how close-knit the expedite industry is. Everyone knows everyone, and little has changed in that dynamic to this very day. Many of the same familiar faces end up popping up, moving from one carrier to another. Or drivers graduating from driving for a fleet owner at one company to becoming their own boss and operating a vehicle, a business, all their own.
Even though the venue has differed since my first days at the Expo, a great turnout is always something that can be counted on. The first year the show moved from Wilmington to Lexington, KY there was barely any trepidation about a break from what most knew to be the regular hang, only a minor initial concern that some truckers might have a hard time finding truck parking. But Kristy Lohre, Event Manager and the mastermind behind planning and executing the Expedite Expo, says ?Lexington was actually a welcome change, it added an extra ?Big City? nuance for the exhibitors and attendees.?
After a three year stop in Lexington, the walls crumbled down. Literally. Seriously though, the spot was torn down in order to pave paradise and put up a parking lot. So, the show took to the road and has been roundly entertaining and educating exhibitors and attendees for the past three years in Fort Wayne, Indiana.
A Lot Like Cheers
To attend the show as an expedite professional, whether as a driver, fleet owner, or carrier executive, the idea is to be seen. Marketing pros call this ?branding.? But you?ll want to show that you?re a player in the game along with everybody else. Show off what uniqueness you and your intentions bring to the party. In a world of Sam Malones and Diane Chambers?, this show gives everyone the chance to be a Norm Peterson. Some even make a great Cliff Clavin.
As an exhibitor, this is an opportunity to play together in the same sandbox as others in the realm of expedite. Get in the mix, make yourself known to the expedite world! You?ll find that year after year renewed hope and energy happens when connecting with other folks who operate in a similar hemisphere.
I credit my years as an attendee and exhibitor as to why I now get to enjoy writing words for the fine folks at On Time Media, the event overseers for the Expedite Expo. If I hadn?t enjoyed such good times at the shows from over the years, made the many connections that have allowed me to continue to function across the expedite landscape, I may not be able to contribute to all of you who are already eagerly signing up for the upcoming Expedite Expo on July 15th & 16th in Fort Wayne (wink, wink).
Stay tuned, there?ll be more to come as we ramp up to the big event!
See you at the Expo!
Brandon Scott