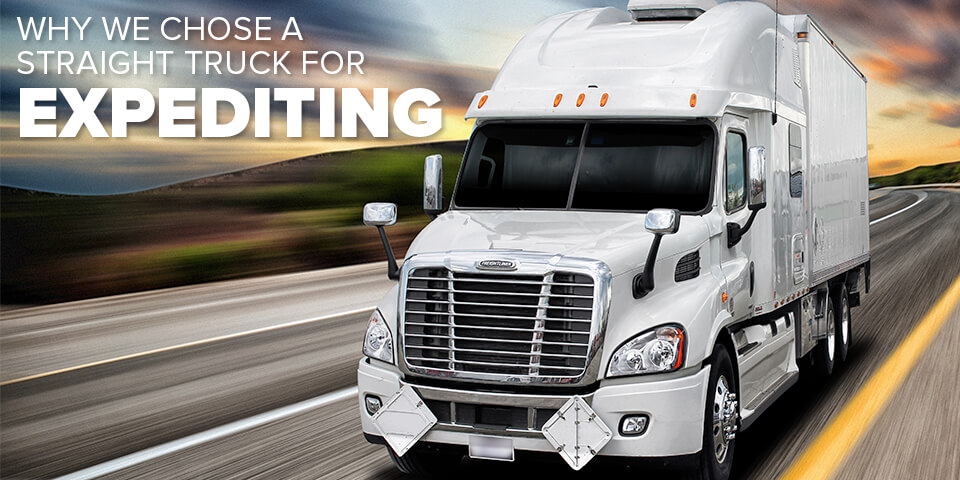 Why We Chose a Straight Truck for Expediting
This is the second installment of a three-part series to introduce you to each type of vehicle typically used for expediting. The first article covered ?Why We Chose a Tractor," and the third article will address "Why I Chose a Cargo Van."
You know Jason and Heather Hutchens as ?The Crafty Trucker? from their ?Our Life on the Road? vlog on ExpeditersOnline.com and their popular Youtube channel, which currently has over 16,000 subscribers.
The couple started their career in expediting as drivers for fleet owner Dave Corfman in January 2013. And four years later, in February 2017, they took the plunge to become owner-operators, purchasing a 2017 Freightliner M2 112 straight truck with a 96-in. Bolt custom sleeper and 22-ft. Box.
If you?re new to expediting, you might be wondering: What exactly defines a ?straight truck? vs. a tractor-trailer?
A straight truck is the combination of the cab, sleeper, and cargo box all attached to a single chassis that's usually rated up to 33,000 lbs. gross vehicle weight rating (GVWR). A tractor is a heavier rated truck that pulls a separate cargo trailer, instead of the cargo box that is permanently installed onto the truck as a single unit.
So, why did Jason and Heather choose a straight truck for expediting?
#1. Freedom
?A tractor-trailer is just too big of a vehicle that we want to deal with,? says Jason. ?We wanted the freedom to be able to go to campgrounds or pull into a Walmart parking lot to get some shopping done. We didn't want the stigma of being in the big truck that people see and say, ?Oh you can't park here.? Whereas, a lot of times, people will see us in the smaller vehicle and they're not worried about us too much. The straight truck gives us more freedom to go more places without being harassed.?
#2. Capacity
?On the other end of the spectrum, the cargo van is not enough room for me and Heather to have all our drones, camera stuff, enough clothes, and all the other living stuff we need to bring with us. All that stuff would take away from carrying capacity in a cargo van," says Jason.
#3. Amenities
?The sleeper is the number one thing that we went for with the straight truck," says Jason. "Sure, you can get that big sleeper on the tractor-trailer, but that size sleeper is not as plentiful as they are with the expediter [straight] trucks. And the cargo vans don't offer the amenities with the living space we need. We decided that the straight truck offers the best amenities for living on the road. Even if you're out only a month or two at a time, having that extra comfort makes being on the road so much better."
#4. Economics
When comparing the expediter truck with the cargo van, Jason says the economics of the straight truck makes more sense for their business.
"You're paying more upfront for the straight truck, but the rates and the loads are more plentiful than the cargo van."

?
?