Professional OTR Drivers wanted for specialized transportation work, 3 yrs. ex.min.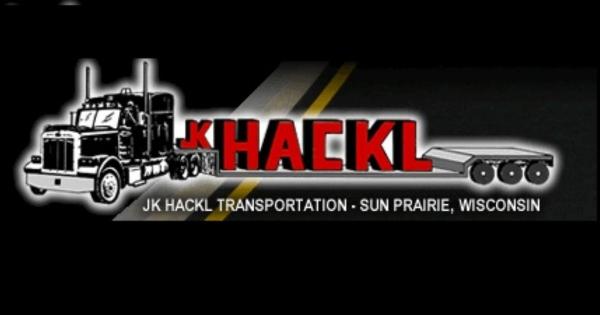 Apply to JK Hackl
Take the next step in your trucking career today! Complete our safe, secure, and fast application process and apply to JK Hackl! Once you've completed your driver profile you can apply to additional truck driving jobs with a single click!
Apply Now!
Sign In to Apply
About This Job at JK Hackl
We are looking for DRIVERS with experience in the Specialized transportation industry. If qualified you will be issued a late model Perterbilt and will often pull Stepdecks and or Double drops and possibly receive a 2500 sign on bonus. Freight will range from castings to high dollar weather sensitive machines that require tarping. Drivers that are willing to work will average $62,000 their first year.

JK Hackl Transportation is a family owned company that is driven to be the best by the best. The owner of JK Hackl Transportation was a driver himself for 20 years. He knows the importance of having great equipment, and the hard work and time that drivers invest.

JK Hackl is for drivers that want to work. We will always be honest, the work is hard, but it is rewarding. Not just the sense of pride you will have, but the financial aspect as well. We are above average in every area of pay. Call us today. Come join the team. Come join the family. 1800-669-2625
Click to Apply
Equipment Experience Accepted
Expediting Experience Required?
No, we do not require that applicants have expediting experience.
Benefits
| | |
| --- | --- |
| Medical plan: | Yes |
| Dental plan: | Yes |
| Vision plan: | Yes |
| Retirement plan: | Yes |
| Profit sharing: | No |
| Stock purchase: | No |
Bonuses
| | |
| --- | --- |
| Bonuses for extra pickups & dropoffs: | Yes |
| Hiring bonuses: | Yes |
| Annual bonuses: | No |
| Mileage bonuses: | Yes |
| Safety bonuses: | Yes |
| Per diem: | Yes |
Click to Apply
Hiring Area By State
A
B
C
D
E
F
G
H
I
J
K
L
M
N
O
P
Q
R
S
T
U
V
W
X
Y
Z
a
b
c
d
e
f
g
h
i
j
k
l
m
n
o
p
q
r
s
t
u
v
w
x
y
Arkansas
California
Connecticut
Iowa
Illinois
Indiana
Kansas
Michigan
Minnesota
Missouri
New Jersey
Ohio
Pennsylvania
Texas
Wisconsin
Click to Apply
Driver Requirements
| | |
| --- | --- |
| Min. driver age: | 25 |
| Min. driving experience: | 3 years |
DMV Record
| | |
| --- | --- |
| Hire a driver who has had their license suspended or revoked: | No |
| Hire a driver with a DWI or DUI: | No |
General Program Offerings
| | |
| --- | --- |
| Paid orientation: | No |
| Spouse rider program: | Yes |
| Child rider program: | Yes |
| Pets: | Yes |
Pay Information for Company Drivers
| | |
| --- | --- |
| Pay for layovers: | Yes |
| Pay for breakdowns: | Yes |
| Pay for loading and unloading: | No |
| Pay for tarp: | Yes |
Click to Apply